Fairfax Elias Saddles
Saddlery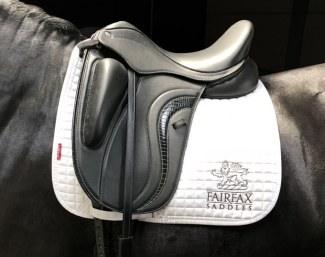 Fairfax Elias
Fairfax Saddles has launched a new saddle in its range of handmade dressage performance saddles, the Fairfax Elias. The British saddlery Fairfax aims to improve the horse's performance by using scientific research and testing techniques to develop saddles, bridles, and girths.
Renowned Friesian breeder and Grand Prix dressage rider Marc-Peter Spahn had always struggled to find a saddle to fit the 'uphill' conformation of the breed.
"I rode in the new Fairfax Elias saddle once before leaving for an international Grand Prix in Falsterbo. It felt so right that I just went for it. We achieved our highest score ever, broke the 70% barrier, and were placed in the top 10 among warmblood dressage horses."
Marc-Peter Spahn, a rider and producer of Friesian sport horses in the Netherlands, says his horses have improved dramatically since he has been working with Fairfax Saddles to develop a panel design for his stallion Elias 494.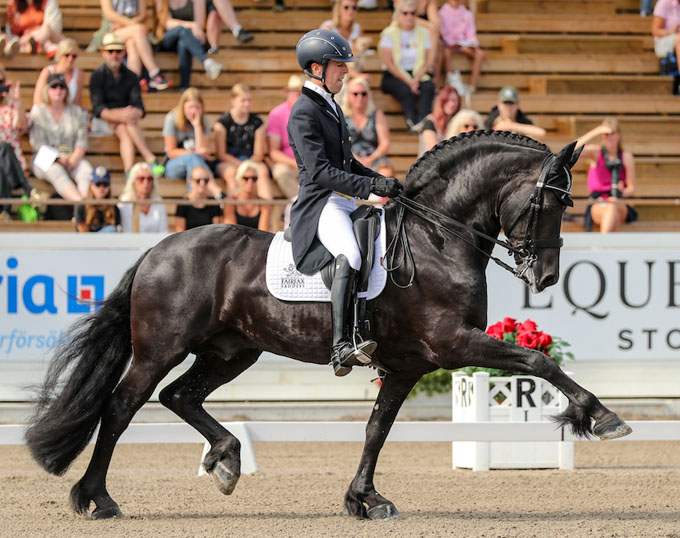 Spahn and Elias at the 2019 CDIO Falsterbo
The Fairfax Elias benefits from deep rear, and slim front, gussets to provide a perfectly balanced platform for the rider. It suits any horse with 'uphill' conformation and benefits from all of Fairfax's famous scientific research and testing. The Performance Panel and tree design is proven to allow greater freedom of movement and relieve pressure around T10-T13 on the horse's spine – the location of a high concentration of muscle activity related to posture and the control of movement.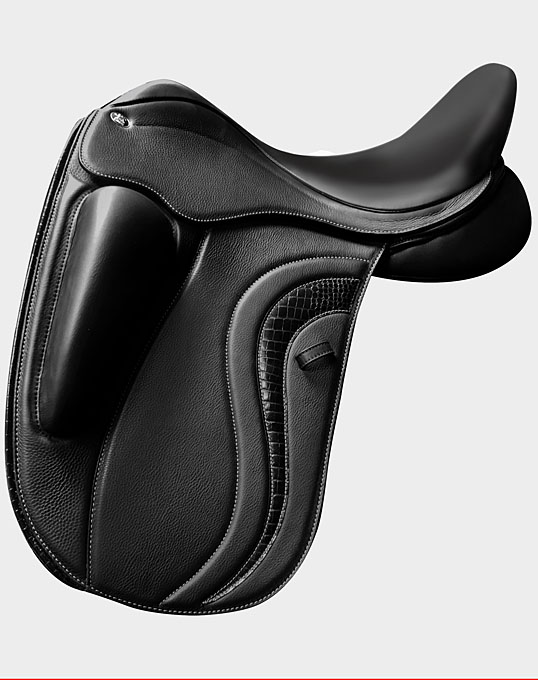 Fairfax Elias
"It has always been difficult to find a saddle that fits this conformation type. Now, thanks to Fairfax, all my horses use their back better and seem to move more freely, particularly in front. I also feel more balanced with a closer contact," he explains.
The Fairfax Elias Monoflap is available in black in 17", 17½" and 18" from Fairfax stockists across Europe.
It features silver stitch and welting, plus croc trim on front facing, cantle & flaps
€3,450-
Find out more about Fairfax Saddles at www.fairfaxsaddles.com
????????Voor meer kennis en informatie, contacteer Bianca Liewes
Qualified Saddle Fitter, aangesloten bij de Engelse Society of Master Saddlers.
Bianca was nauw betrokken bij de ontwikkeling van het Elias zadel
Winkelwagen
Geen artikelen in winkelwagen.